EXECUTIVE SUMMARY
The experience of America's children online has been at the forefront of concern for families and policymakers since the Internet first became widely available. The Internet is revolutionizing access to information, providing undeniable benefit to consumers and commerce. Nonetheless, it risks exposing children to sexually explicit material that many believe is inappropriate or harmful.
In October 1998 Congress enacted the Child Online Protection Act and established the Commission on Online Child Protection to study methods to help reduce access by minors to certain sexually explicit material, defined in the statute as harmful to minors. Congress directed the Commission to evaluate the accessibility, cost, and effectiveness of protective technologies and methods, as well as their possible effects on privacy, First Amendment values and law enforcement. This report responds to the Congressional request.
The Commission studied a wide range of child-protective technologies and methods, including filtering and blocking services; labeling and rating systems; age verification efforts; the possibility of a new top-level domain for harmful to minors material; "greenspaces" containing only child-appropriate materials; Internet monitoring and time-limiting technologies; acceptable use policies and family contracts; online resources providing access to protective technologies and methods; and options for increased prosecution against illegal online material.
The following "scattergram" provides a snapshot of the Commission's analysis of the positive and negative attributes of each of the technologies and methods evaluated in this report. The horizontal axis shows scores for the combination of effectiveness and accessibility. The vertical axis shows cumulative scores for user cost, cost to sources of otherwise lawful harmful to minors materials and adverse impacts on privacy, First Amendment values and law enforcement.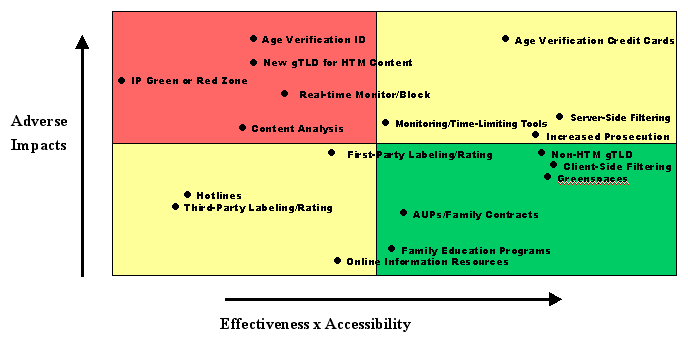 Technologies and methods identified in the lower right quadrant are most effective and accessible while imposing fewer costs and adverse impacts. Those identified in the upper left quadrant are relatively ineffective and create the most adverse effects. After consideration of the information gathered through hearings and comments filed by a wide range of parties, the Commission concludes that no single technology or method will effectively protect children from harmful material online. Rather, the Commission determined that a combination of public education, consumer empowerment technologies and methods, increased enforcement of existing laws, and industry action are needed to address this concern. The Commission's specific recommendations are as follows: 1
Public Education:

Government and the private sector should undertake a major education campaign to promote public awareness of technologies and methods available to protect children online.
Government and industry should effectively promote acceptable use policies.
Consumer Empowerment Efforts:

Resources should be allocated for the independent evaluation of child protection technologies and to provide reports to the public about the capabilities of these technologies.
Industry should take steps to improve child protection mechanisms, and make them more accessible online.
A broad, national, private sector conversation should be encouraged on the development of next-generation systems for labeling, rating, and identifying content reflecting the convergence of old and new media.
Government should encourage the use of technology in efforts to make children's experience of the Internet safe and useful.
Law Enforcement:

Government at all levels should fund, with significant new money, aggressive programs to investigate, prosecute, and report violations of federal and state obscenity laws, including efforts that emphasize the protection of children from accessing materials illegal under current state and federal obscenity law.
State and federal law enforcement should make available a list, without images, of Usenet newsgroups, IP addresses, World Wide Web sites or other Internet sources that have been found to contain child pornography or where convictions have been obtained involving obscene material.
Federal agencies, pursuant to further Congressional rulemaking authority as needed, should consider greater enforcement and possibly rulemaking to discourage deceptive or unfair practices that entice children to view obscene materials, including the practices of "mousetrapping" and deceptive meta-tagging.
Government should provide new money to address international aspects of Internet crime, including both obscenity and child pornography.
Industry Action:

The ISP industry should voluntarily undertake "best practices" to protect minors.
The online commercial adult industry should voluntarily take steps to restrict minors' ready access to adult content.
Conclusion
The child-protective technologies and methods evaluated by the Commission provide an important but incomplete measure of protection from harmful to minors material online. The efforts recommended in this report, if implemented by industry, consumers, and government, will result in significant improvements in protection of children online.

1. This is an abbreviated version of the recommendations. The full text of the Commission's recommendations can be found at pp. 39 to 46 of the Report.